The Co-op Network publishes: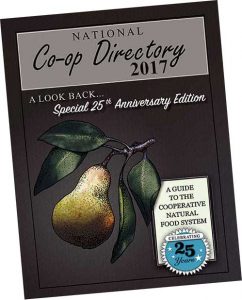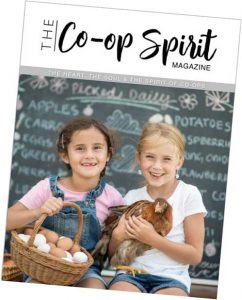 ---
A Look Back…
by: George Keller
from the 2017 edition of the National Co-op Directory.
We were living "up a holler" in the middle of nowhere West Virginia

when we started publishing the National Co-op Directory back in 1993.

Earlier that year we started publishing a newspaper called the Co-op News Network and distributing free copies to co-ops across the country. In doing this we compiled a list of all the co-ops in the country. I had just finished managing my first co-op in Morgantown, WV, then did some traveling and I felt like having a list of co-ops would have been helpful in both of those endeavors so the directory was born to assist managers and travelers.

We have seen the listings go up, then down and then up again. The first issue in 1993 listed 270 co-ops and by 1995 we had found 325 co-ops. Chris Olsen from Minnesota was an important resource in building the list. From 1996 to 2008 there was a steady decline in the number of co-ops listed finally bottoming out at about 255 co-ops. Then the listings increased dramatically as the economic crisis of 2008 inspired quite a renewal of interest in creating co-ops. By 2014 we had 390 co-op organizations listed. New co-ops are still forming but these gains have been offset by co-ops going out of business so the number has stayed pretty level for the last three years. The Food Initiative website reports that there are over 100 co-op organizations making a serious effort to open a store so we expect the listings will go up again.

Over the past 25 years practically every facet of producing the magazine has completely changed. Every year we contact each co-op to see if there are changes to their listing. This used to be done by mail and took about three weeks to mail out the forms. Now ninety percent of the contacts are made via email and it takes about two days to email the forms. During that first year living in WV, on a number of occasions I would walk two miles up a holler in mid-winter to get camera ready copy from our friend's laser printer. Now no printing is necessary. My wife, Monique, did the first paste down which included gluing the name of each city on each map. She went at it 24/7 for three days and nights. Heidi and I stayed out of her way and made sure she had food. We continued doing paste downs and resisted going to a digital layout until 2004.

One day that year I was having a lot of trouble getting an ad a co-op was emailing. The person sending it talked me through the process and then asked if we needed help. She proceeded to do our first digital layout as a volunteer and the next year we put Hilary Baumann of Fascination Design in our budget. Hilary has been a crucial factor in the Directory's success. She has done imaginative designs and the ads are always clean and the colors are gorgeous. Although we have worked together for 15 years we have never met! The early directories were printed at local companies with whatever equipment they had. Then we moved to a digital press for a few years until we outgrew that process and started printing on a web press.

There have been a number of changes to the directories content. Originally we only listed co-ops that had a store front. In the past few years we have added the new online co-ops and usually list about a dozen co-op organizations that seem to be close to opening. Co-op Distributors were big supporters of the directory in the early years but in 2002 most them closed and by 2008 we had no co-op distributors listed. In 2010 Erbin Crowell suggested we add a "Co-op Company Section" to promote cooperation between co-ops. Erbin has been instrumental in developing that section.

The directory was completely supported by co-op advertising and selling copies for the 1st fifteen years. When the 2008 economic crisis hit our family hard I started including product advertising. This was so successful that in 2013 we started including a section about the co-ops. In 2013 it was the "Manager's Gallery". The following year it was the "Co-op Year In Review" and the last two years it has been the "Co-op Yearbook". This section has been a way co-ops can share information and inspiration. Our oldest daughter was one when we published the first directory, so the directory was a regular part of the girl's lives as they were growing up. Distribution and mailings were generally a family affair. The girls also helped with the Co-op Newsletter Exchange which is another service we have provided for over 20 years. I only have one girl left at home to help and she will probably be college bound in two years. I will have to start planning family reunions at distribution time.

In the past 25 years I have raised a family of three girls, moved 5 times, managed two co-ops (ME & VT), promoted two co-op conferences, published a national co-op newspaper and a few other co-op publications including the Fair Trade Connection. It is truly an honor and pleasure getting to work with so many friendly co-op people. Thank you for your continued support.
– George Keller & Family